————————
From The Bard of the Dimbovitza, Roumanian Folk-Songs Collected from the Peasants by Hélène Vacaresco, translated by Carmen Sylva and Alma Strettel; London: James R. Osgood, McIlvaine & Co., 1897; pp. i-iii.
Online Introduction to

The Bard of the Dimbovitza
Queen Elisabeta of Romania, usually anglicized to Elizabeth, was born in 1843 and died at the age of 73, in 1916. Besides being a progressive queen, she was also a very popular international author, writing under the name of Carmen Sylva. Much of her work was devoted to the preservation of the folklore of the people of her country. A Fairy Tale that she wrote, The Caraiman, is also on this site.
According to the Introduction by Queen Elizabeth, one of her circle, the noblewoman Hélène Vacaresco, from Wallachia in Romania [also spelled Roumania] shared her interests. She recorded the songs of the agricultural families, the 'peasants,' that lived on her estates. The Queen and Alma Strettel translated the work into English from the original German, as The Bard of the Dimbovitza, now online here.
Besides songs, the book also has an ancient play called Autumn, from an undated but early manuscript found in the vaults of the author's ancestral home.
As a whole, the collection covers the gamut of human emotion, from grief and guilt, to joy and hope. Overwhelmingly though, sorrowful subjects predominate. It is interesting to see how the love of Nature pervades most of the songs. A broad outline of the lives, customs and values of these people can be gathered by reading all of them.
Without hearing the music and being accustomed to a far different style of verse, I had trouble, at first, summoning much enthusiasm for the songs themselves — outside of the details of cottage life and manners. However some songs made an impression, even on me: a lover of plebian and primitive poetry (e. g., rhymed, satirical or just silly, heavy on alliteration and strongly metrical). They improved on re-reading, generally. The song The Murderer and the play Autumn are downright chilling, even in translation.
I was also pleasantly surprised to see the almost total lack of the typical religious overtones and Christian philosphical entreaties and moralizing which pervades so much of both the folklore and other popular literature seen in writers of that period in Europe and America. The impression is that Nature and her hand-maidens, e. g., Sun, Moon, Stars and Waters were far more real to the singers than Satan and the Saints.
Usually, a favorite subject for the minstrels of other lands and other social levels, are feasts and revelry — with the descriptions of delicacies and groaning food boards. Here, these topics are also lacking in the songs. When food is neither varied, nor always plentiful, and only available through year-long labor — barring disasters — this is not a likely candidate for versification. Having food, any food of any type, is the most essential part of life to the people of this 19th century farming community. In remote districts that are difficult to access, exotic dishes were probably inconceivable and unheard-of.
It is very clear by reading of the other things that did appeal to them as worthy of a place in their music, and by the descriptions of their daily tasks, that every day of every year is spent ensuring that there will be something to eat at all. Food then, like air, is too critically important to be song-worthy. So quibbling about quality — whether rare, medium, or well-done; sauced or sauceless; spiced, sauted, boiled or fried — probably didn't occur to them. Quantity alone, not taste or variety, mattered. The prospect of starvation was a very real fear, and their lives were spent attempting to stave it off. Such a basic tenet of existence is understood by everybody in the audience for whom they performed. Thus, there is no need to sing about this most pressing, most basic need when it is so obvious and so thoroughly understood by all.
For more information on Romania and its history and culture, there's a lot of information on the website for the The Honorary Consulate of Romania in Boston.
For more information on Queen Elisabeta, and other royal Romanians, some unique web content can be found on Tom's Place.
For the most online information on Hélène Vacaresco [Elena Vacarescu], and Wallachia [ also spelled Valachia or Walachia], see the page on Hélène Vacaresco on Bucovine.com.
Bernard Brumberg, the creator of this site, has provided a significant resource on Roumania, with material found nowhere else. On top of that, he is a delightful person.
The title page has interesting typography and an unusual printer's logo, so there's an image of it below the link:
Get started with the book by clicking below:
[front-papers]
[i]
[ii]
[blank]
[iii]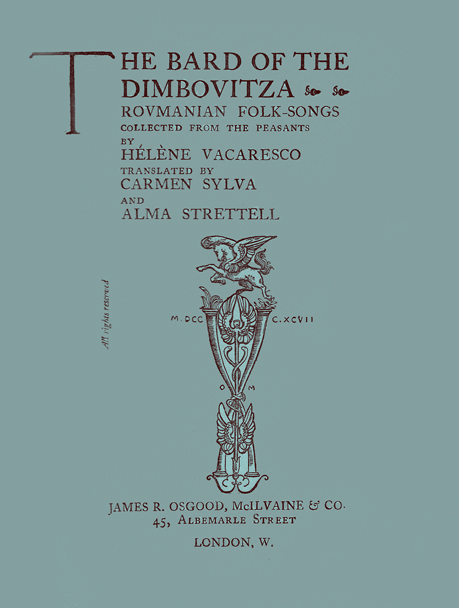 ————————