~~~~~~~~~~~
Click on the footnote number and you will jump to the note. Then click the footnote number there and you will leap on up to the place in the text where you left it.
~~~~~~~~~~~
From Early English Romances: Done Into Modern English by Edith Rickert: Romances of Love, Chatto and Windus: London, Duffield & Co.: London, 1908; pp. 153-177, 192-196.
153
THE SQUIRE OF LOW DEGREE
It was a squire of low degree,
That loved the king's daughter of Hungary.
SEVEN years he had served the king as marshal in hall to place all the lords according to their rank; and so was he courteous and good, that every man loved him as his friend. Withal, he was brave and stout in battle; but he mourned ever, none knew wherefore. And it was all for that lady, the king's daughter of Hungary. No creature in Christendom knew how well he had loved her for more than seven years; and this was to no end, seeing that, although he was a gentleman, he was not rich of gold and goods.
He durst not make moan to any save himself alone, but ever when his sorrow pressed upon him, he would pass through his chamber out into a gay garden. There was a beautiful green arbour of the fairest trees1 and plants in the world — of cypress, first chosen by Jesus,1 of southern-wood and sycamore, red rose and lily, box and beech and laurel, date and damson and drooping filbert, fig-tree and round maple, peony, poplar and broad-branching plane, and many another tree and shrub.
On every bough perched three birds1 singing melodiously: the laverock, red-breast and nightingale, the wit-wall, peacock and popinjay, the throstle piping all the 154 while, the merle, the wren, and the swallow whipping to and fro, the jangling jay and the mirthful lark, the sparrow fluttering on her twig, the cheerful mavis, the nuthake with her fresh notes, the starling with her true notes, the goldfinch chirping gaily on a briar, and many other birds that with their clear whistling brought comfort. Always when he was sorrowful, he would go into that arbour and lay him down in the bent, right under her chamber window, with his back to a thorn-tree, crying: "Alas that ever I was born! Would I were rich in gold or lands or other possessions, that so I might wed that sweet flower-lady! Or that I were come of gentle kin to win her love! Would I were a king's son to woo her! Or that I were as bold in battle as the knight Sir Libius,2 or as chivalrous as Sir Gawain3 or Sir Guy,4 or as doughty of my hand as the giant Colbrand!4 If it were put in jeopardy what man should win that sweet lady, the king's daughter of Hungary, none should have her but I!" And ever he cried: "Wellaway, poverty robs me of all my joy!"
Now the lady heard this lament right under her chamber wall, as she sat in her oriel that was enclosed in painted glass, every window with a device and adorned with tracery. Quickly she undid an ivory bar, and flung the casement wide, so that the sun streamed into her closet.
She beheld where the squire lay in that gay arbour, and 155 called to him: "Sir, wherefore such moan? Why mournest thou, day and night? Tell me now, squire, I prithee; and as I am a true lady, I will never make thy counsel known, but save thou be to blame, I will help thee in thy trouble."
Often had he been in joy and sorrow, but never before so well as then. He fell on his knee, saying: "Lady, it is all for you! These seven years have I loved you, and paid dearly for my love! Ye are so rich of array, that I durst never speak word of it to you, and of so high kindred that I knew not how to begin. If I had told my will, and ye had not been pleased, ye would have betrayed me to the king, and brought me full soon to my death. And so, fair, sweet lady, I durst never show my heart. But now I am here at your will, to spare or slay; and one word from you might comfort me for all the sorrow I have had. If ye will not do so, I must needs depart from this country, and forsake my kindred, and become an hermit5 in some uncouth6 place, begging my bread in many a land, and seeking to find where Christ lived and died. I will make me a staff of my spear, and will wear no linen, but wend ever in travail until I come to the world's end; and lady, but ye be my help, no shoe shall every touch my foot. O lady, I prithee, by Him that died on Good Friday, put me not to this peril for His love that harrowed Hell!"
Then that lady from her oriel said right sweetly: "By 156 Him that died on the tree, I will not deceive you, squire; and though I should be slain for your sake, I will return your love! Go forth and serve the king my father, and lay aside all your secret mourning. Let no man know ye were here alone in my arbour; and as ye would fain have your will, listen, and look, and hold your peace. Beware of the steward, I pray you; he will deceive you if he can. If ever he wist of your wooing, he would betray you to the king; and anon ye would be taken and put into prison for my sake. Then must ye needs abide the law, peradventure to be hanged and drawn. Not for all the gold in Christendom would I see you thus! But if ye would win my love, ye must undertake chivalry and deeds of arms, by which ye shall earn your shoon;7 and ye must ride through many a perilous place as a venturous man for his lady's favour,8 over hills and dales and high mountains, in wet weather, alike hail and rain; and if ye find no harbourage, then must ye lodge under a tree among wild beasts or tame — and so shall you win renown. And ye must lie in your armour every night for a while, and also your men, until seven years be come and gone; and for my love, squire, ye must cross many a perilous sea. Wherever war awakens, ye must enter upon battle, in every city throughout the land of Lombardy. But be ye well advised when ye undertake a 157 combat, that ye stand ever in the right, and bearing this in mind ye shall speed the better. And when the war is ended, ye shall journey to the Rhodes, and there fight on three Good Fridays,9 if ye would have praise of me. Only if ye overpass these three battles, are ye worthy to be a knight and to bear arms of gold and gules set with sable.9 And ye shall have a blue shield in token of constancy, inlaid on both sides with golden vines, full of imagery, and all besprinkled with true-loves! Amid your shield shall be set a lady's head in fretwork, and above it, for love of me, the motto AMOR.9 The baldric10 on which it hangs shall be white with a red cross in token of the Trinity.9 Your helmet shall be well burnished, your ventail11 neatly fitted, set with gold stars and covered with fine velvet, with a new head-piece12 and divers-coloured ostrich-feathers. The plates clasping your body shall sit seemly about the waist, and your coat-armour13 shall be of pure gold bordered with rich ermine.
Thus, with six good yeomen by your side, shall ye ride forth to your wars; and when these be ended, it shall behove you to journey farther, over many a perilous flood, past fields and paddocks and dense forests, till you come to Jerusalem to seek out where Christ lived and died. There 158 must ye draw your battle-sword and bear it to the Sepulchre,14 and among all the lords lay it on the stone, and offer five florins as long as ye live, and three more in token of the Trinity. When, sir, ye have done all this, then are ye worthy to wear your shoon, and ye may say justly that ye are proved a venturous knight. And I shall give you a thousand pounds to your spending when ye ride forth — that and a horse and armour — whereby ye may win honour and be greater than all your kith. I pray God and Our Lady send you the Wheel of Victory,15 that my father may be fain to wed me to you and make you king of this country, to have and hold in honour, to wear the crown with wealth and prosperity, and to be lord of town and tower, that so we may live out our days in perfect, pure love. If we may not come to this, we must do otherwise; but therefore, squire, go your ways, take leave of the king and queen and all the court, and hasten on your journey. And in your going you shall lack neither gold nor silver, nor anything else. Seven years I shall wait for you, betide what betide. Till seven years be come and gone, I shall remain unwed."
The squire kneeled down to thank that fair lady; and kissing her thrice, he took leave and went his way.
But the king's steward stood in a chamber fast by, and heard all these words plainly — every deal of the wooing; and he vowed to the King of Heaven that he would betray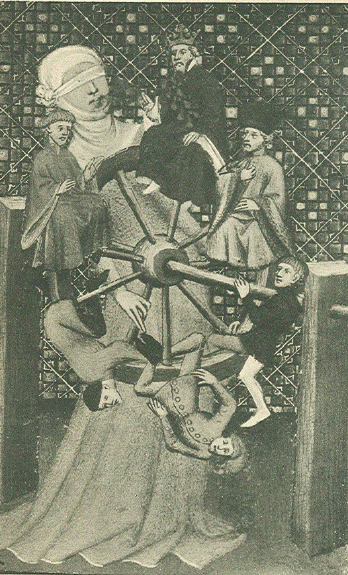 "The Wheel of Victory."
159
that sweet maid, and would have the squire taken and hanged high on a tree. The traitor was full of rage and longing to undo them, and bethought him daily how he might be revenged on that fair lady, in that he loved her secretly and was jealous of her. Alack, as soon as he was of their counsel, all their joy was turned to woe!
Now when the squire had parted from his gentle lady, he went to his chamber and arrayed him in scarlet-red with a broad-barred girdle, a chaplet on his hair and a horn about his neck; and thus he went forth to do his office in the hall, among the lords of high and low degree.
With a white rod in his hand, he went to kneel before the king, and served him right royally with dainty meats,16 partridge, plover and peacock, and birds baked in bread, teal, duck and drake, cock, curlew and crane, pheasant, stork, snipe, and fresh venison of buck and doe, and many other dainties fit to set before a king.
And when the squire had so done, he served to and fro in the hall, honoured and loved by men of every degree. The king beheld him in his fair raiment, and thought him the comeliest man that he had seen in the world ever; and with that, all at once he loved him, though he wist never wherefore or why.
Thus he sat still, and ate right naught for thinking of his squire. Of this the steward took good heed, and came and told the king all he had heard of the wooing: how she had 160 promised him land and goods, and great plenty of gold and silver; and how he was to take his leave and become a knight for her sake: "And thus, while they talked together, I drew me near and evermore near; and, had I not come in, verily the squire had dishonoured her. But when he perceived me, he fled fast away. On the truth of this, here is my hand. I will fight him to the death!"
Then the king said to the steward: "I cannot believe it should be thus. He hath been so debonaire and gentle, and hath served me since he was young,17 aye ready and true of word and deed — I cannot believe he would betray my dear daughter, or tempt her to folly! And even though she consented, I trust him so fearlessly that I know he would never win her save in wedlock; and if this is her doing, he deserves no ill on that account. I have seen many a page who became a man by marriage; and so it is seemly that the squire should win my daughter in this manner. A man of any degree may become a prince by fortune or some other grace, by purchase18 if not by heritage. Therefore, steward, beware and defame him not through envy. It were great pity he should be undone and put to death guiltless, and a heavy sorrow to my dear daughter. I would not for my new crown that she should lose her fair colour! So have a care unless thou take him in the deed, for if it be found that thou defame them through enmity, thou shalt be seized as a felon and put full deep in 161 prison and fettered fast to a stone till twelve years be passed, and then drawn by a horse through the city and hanged upon a tree! And thou may not excuse thyself or deny this deed; therefore, steward, beware how thou shalt answer for it!"
Said the steward, full of malice: "What I have said I will stand by, even to the suffering of death and endless woe! Sire, I will never go back on this, and if ye will give me power and a force of men, I shall this very night take him in your daughter's chamber. I shall never be content until I be avenged on him!"
Then the king answered courteously: "Thou shalt have force enough, thirty-three men-at-arms, to watch over that lady and keep her from her enemies. For there is no knight in Christendom but if he should betray her, he should die under his shield if ever I should come face to face with him! Give heed to my words, steward, I prithee. If the squire come to-night to speak with my daughter, let him say whatso he will; listen and watch and hold thy peace, and hearken well to his words, ere thou make any fray with him; and so he come not within her chamber, begin no quarrel, even though he kiss her at leave-taking, but let him go, whole and sound, without any wound or hurt. But if he will break into her chamber, speak never a word, and even if he be come with company to her undoing, look he be taken anon and all his meiny, and brought by force into my prison as a traitor, thief, and 162 false felon; and if he make any defence, hew him as small as flesh that goes into the pot. If, on the other hand, he yield, bring him to me, safe and sound, and I will find surety that he shall not wed my daughter for seven years. Therefore, steward, watch that lady, night and day, I prithee."
The steward answered, "I will do your bidding," and took his leave to go.
The squire came down from his chamber into the hall, and summoned all the officers, 19 usher, panter, butler, and others, and bade them take up the tables; and they did as he commanded. After, he himself went to the king and set him humbly on his knee, and cleared the board full decorously. And when he had so done, he said to the king: "As ye are a chivalrous lord, give me leave to pass the sea, to prove the strength of my right hand on God's enemies in a strange country, and to become known for my deeds in Gascony, Spain, and Lombardy, fighting all battles that I may be proved a venturous knight."
Said the king: "Thou shalt have leave to go. I will give thee gold and goods and a force of men. If thou be true in word and deed, I will help thee in trouble."
Upon this the squire gave him thanks, and took leave and rode forth, proud and joyful, with his meiny. But he had ridden only a little way, scarce a mile, ere he came to a 163 village, and said to a page of his: "Look that our supper be ready soon, for we shall lodge here to-night."
They took their inns thereupon, and presently went to supper. But when the squire was set and served at meat, he said that he had forgotten to take leave of that noble lady, the king's daughter of Hungary. So he rose anon, and went forth without his men, and returned to the castle.
When he came to the postern-gate, he entered with drawn sword, being alone; and yet was he full hard bestead by the steward, as ye shall hear. He thought that none in the world knew his secret; but alas, it was not as he deemed! For the steward was of his counsel and had betrayed him to the king, and now lay by the lady's chamber, and beset it all round about with a great company of armed men. Treason walketh wonder wide!
The squire had no mistrust, but by St. John, had he known what was toward, he had not come there alone. Or if that lady had but wist his purpose, she would have given him gold and goods and a right royal force of men; but none knew whither he departed when he went forth alone from among his servants.
When he came to her chamber, he cried: "Undo your door; undo, my dear! I am beset by many a spy! O my white20 lady, there are thirty to my one! Open your door, sweet love; I am threatened by many a knife! 164 Undo, sweetheart; there are strong foes all about me! Lady, save ye arise, I am but dead through them! Undo your door, my lovely flower, as ye are mine and I am yours!"
At this the lady awoke, and, casting upon her a golden mantle, cried out: "Go away, villain, you shall not come here to-night! I will not undo my door for any man that comes to it! There is but one in Christendom that ever made foreward with me so that I promised to be his wife; and by sweet Mary, he shall wed me only when he is proven a venturous knight. We have loved these seven years; and although kings and chevaliers, dukes and powerful earls wait on me, I hold no other love so dear as his! Therefore, squire, depart, for here ye get no prey. I wot not who ye should be that thus beseech me of love!"
"I am your own squire," he said. "Be not dismayed for me, lady: I am come secretly to take my leave of you."
"Welcome," she cried, "dear my love! Mine own dear heart! My squire! I shall give you kisses three, and a thousand pounds as a gift; but I shall keep my maidenhood till ye be proved a venturous knight. For if ye should wed me now, my father would banish you anon; and though ye love me never so sore, ye shall not be slain for my sake! Go forth and ask me of my kindred, and look what answer ye get; if, i'fay, ye are granted, myself shall not deny you. But if ye may not do so, ye shall come to it otherwise. Ye are hardy, strong, and bold — go forth 165 and be a venturous knight; and I pray God and Our Lady send you the Wheel of Victory, that my father may be lief to proffer me to you. I know it is said lightly, 'Go forth, and be not afraid.' A man of honour may not do so, but must have what he needs of gold and goods, and a strong force of men; so spare ye not gold or silver till your manhood be proven. Into whatso battle ye enter, ye shall have an hundred pounds, or two. And if ye should say to me that I would fain have you gone, and have offered you gold and goods to be out of my sight, believe me, sire, it is not so, but only for the honour of us both. Though ye be come of simple folk, yet ye may win my love if ye have as much grace of victory as had ever Sir Guy,21 or Sir Libius,21 when the dwarf and the maid Ely came to worshipful King Arthur, so that he became a famous knight and won the Lady of Synadowne; for he was granted the battle, although the dwarf was vexed and said: —
' Arthur, thou are to blame!
Bid this child go suck his dame.
Better it seems him, as may I thrive,
Than for to do these battles five!'
At the chapel of Salebraunce, these words caused a great tumult; but when they saw he had the victory, they kneeled down and cried his mercy; and afterward, sir, they called him the Knight Absolute, with emperors, 166 dukes, knights, and queen to be at his commandment. Now may such fortune by grace betide you, to win the worthiest within the wall, and still think on your love alone, and change not."
Right as they talked together, their foes drew nearer and nearer. Four and thirty with glittering weapons had the steward arrayed for that fight, being ordained to spy and take them utterly.
The squire thought that he must go to his death, and felled seven men that set upon him at once. When he had brought these to the ground, the steward himself turned fiercely against him, and so hard they smote together that the squire smote the steward's throat a-two; whereupon he fell down mortally wounded, and died as a false traitor.
Then presently the other men caught the squire in their arms, and tore off his fine raiment and put it on the steward; and with their swords so hacked his face that the lady might not know who he was. And so they cast him, this steward stiff and stout, at her chamber door.
When they had done with that great affray, they stole secretly with the squire unhurt, and so took him into the chamber of the king, who said: "Welcome, son. ye thought to be my son indeed, but for seven years I will prevent you!"
Let us leave the bold squire and return to the fair lady at her chamber door.l "Alas!" she cried. "Wellaway! I have lain too long! Alas, and for all woe! Why camest 167 thou so without men? If I had but known thy intent, I might have warned thee! Too dearly have I paid for my love, but it shall not be lost utterly!"
She took him in her arms and dragged him into the chamber, and there drew forth his bowels and buried them according to the law of God; but the body itself she dried with spicery, with virgin wax and cummin, and enclosed it in a chest of maple-wood under three locks. And this she put in a marble-stone and set at her bed's head, and every day she kissed him. As soon as she arose in the morning, she would kneel down and make her prayer to the Trinity, and then kiss that body twice or thrice; and ever when she had so done, would she swoon away. Then would she go to the church and hear the five Masses which she had offered for as long as she should live. "And none but the King of Heaven shall know for whom I make this offering."
Said the king: "My daughter, why are you so mournful — so fair and comely a lady as ye are? Ye were once ivory-white, and are now as grey as any stone; ye were once red as a cherry, with arch brows and laughing eyes. Ye were wont to harp and sing, and to be the blithest in the chamber. Once ye wore gold and good velvet, and damask-cloth set with sapphires. Ye had gems on your head, red and white stones of the Orient, and gold coronals, with many a row of diamonds. And now ye wear black garments — tell me, daughter, for whose sake? If he be so 168 poor of renown that for shame ye may not be wedded, bring him to me, and straightway I will make him a squire or a knight; and if he be so great a lord that ye may not grant him your love, let me but see him, daughter, and he shall have gold enow with thee."
"Gramercy, father, as I hope to thrive, I mourn for no living man! And none, by the King of Heaven, shall know more of my sorrow!"
Now the king understood it, every deal, but he kept his own counsel, and said: "To-morrow ye shall go a-hunting, my dear, and ride in a carriage covered with red velvet, with hangings of bright gold about your head, with white damask and blue azure worked with fresh lilies. Your pommels22 shall be tipped with gold, your chains richly enamelled, your mantle of splendid purple pall and ermine. And your carriage shall have sprightly jennets of Spain, with trappings to the ground of gay velvet. Ye shall have harp. psaltery and song, and other mirthful devices. And ye shall have Romney23 and Malmsey, Hippocras and Vernage, Mount Rose and Greek wine, Algrade and Respice, Antioch and Bastard, Pyment and Granada, Muscadel, Claret, and Rochelle, the red to digest your stomach, and pots of Osey to set by you. Ye shall have baked venison, the best wild-fowl that may be caught, a leash of greyhounds to run with you after hart and hind and other such. Ye shall be set at such a 169 trysting that the deer shall come to your hand. To drive away your misease, you shall hear the bugles blow and watch the beagles and seven-score sleuthhounds in their tracking.
"And ye shall ride homeward a-hawking by the river, with goshawk and gentle falcon, with eaglehorn24 and merlin.24
"When you come home among your people, ye shall have revels, dances, and songs; and little children shall sing for you like nightingales.
"Your evensong shall be of tenors and trebles, three score, clad in capes of gay damask set with pearls. Your altar-cloths shall be of taffeta, your robes of the same silk.25 Your censers shall be of gold richly enamelled with azure. Your choir and your organ shall give forth song, with counternote and descant,25 half of them playing on organs, and with young children singing sweetly.
"Afterward, ye shall go to your supper, and sit in a tent in a green arbour, decked to the ground with Arras25 cloth set with sapphires and diamonds. On your head you shall wear cloth of gold adorned with popinjays in red stones. And you shall have officers at your bidding to bring you all manner delights. The nightingale sitting on a thorn shall sing to you all the while. An hundred knights told off for the sport shall play at bowls25 in cool alleys to drive away your misease; and you shall watch the fishes jumping in 170 the pools, and walk up and down the arbour to see the lovely flowers.
"Presently ye shall go to a drawbridge, half of stone and half of wood; and a barge26 shall meet you with four-and-twenty oars, with trumpets and clarions, to row up and down the fresh water. And ere ye come home, ye shall go out in the salt foam to look upon your manors; and there shall be with you eighty high-towered ships, splendid dromedaries27 and carracks28 with two sails, the swiftest that go on the water, with good galleys lying in the haven, with eighty oars at their prows. And your mariners as they row shall sing: "Hey, how and rumblylowe!'26
"Then, daugher, ye shall call for wine with good rich spices, pretty pots of green ginger, dates, and other dainties. Forty gleaming torches shall give you light at every bridge. And at last you shall be led to your chamber with much mirth and joyance.
"There your costards26 shall be covered with white and blue worked with fresh lilies, your curtains of draped camaca,29 your bed-posts26 all of gold, with splendid gem-work by your head. Your curtains shall be figured with red and white popinjays, your coverlets furred with ermine, and powdered with gold of fine hue; your blankets shall be of fustian, your sheets of Rennes cloth, your head-sheet decked with gems, diamonds, and bright rubies.
171
"When you are laid softly in bed, a golden cage shall be hung aloft, with long-pepper30 burning and sweet-scented cloves, frankincense, and olibanum,31 so that even while ye sleep, ye shall savour them. And if ye cannot rest, all night long minstrels shall wake for you."
"Gramercy, father, as I live, none of these things liketh me!"
She passed into her chamber, and there fell a-swooning; and so with deep sorrow and bitter sights she kept that body seven years.
But now let us leave her and tell of the squire that was put in prison for her sake. Upon a day, the king himself went secretly and took him out and made him swear never to reveal what had befallen. And there the squire held up his hand never to gainsay the king's bidding; and the king granted him leave to go forth on his journey, and in a word, to pass the sea so that no man wist save they two. And when had had done his wandering, he should return. "And thou shalt be in my chamber as I shall ordain for thee. And then shalt thou wed my dear daughter, and have my lands, both far and near."
At this the squire was full merry, and thanked the king and went his way, the king giving him both land and goods. Anon he passed the sea into Tuscany and Lombardy, where he wrought chivalrous deeds. In Portugal 172 and in Spain no man might stand against him, and wheresoever he went he bore away honour. Thus he travelled for seven years in many a land, near and far, till on a day he bethought him to go to the Sepulchre, and there he made his offering right as the king's daughter bade him.
Then presently he remembered him what the king had said, took leave of Lombardy, and rode home to Hungary; so came to the king as he before had made covenant to do. He told of the battles he had won and of the chivalrous deeds he had wrought in Lombardy; and the king was so pleased with these good tidings that he took him by the hand and made him full royal cheer, and said: "Welcome, my dear son! Let none of thy meiny know thou art out of prison; but hold thee still in thy chamber until I learn my daughter's will."
So the king went alone under his daughter's window, where he might hear her moaning and learn her thoughts. Had the sweet lady wist he was there, he had not know so much of her mind. But she weened nothing of him when she began to weep and wail over that body, and cried: "Alas, that we must be parted a-two!" Twice or thrice she kissed it, and swooned away. "Alas!" then said the dear lady, "seven years have I kept thee, and now thou art turned to dust! No longer may I keep thee, dear love, but must render thee to the earth, with reading and singing of priests. If any man ask what I have here, I will say it is my treasure; and if any would know why I keep it, I 173 will tell him, so it be safe from thieves. For thy sake, O my squire, I say fie on the vanity of this world! Farewell, pure gold and fine, velvet and satin, castles and manors; farewell hunting and hawking, revel, mirth, and play; farewell pleasure and gay garments, pearls and gems and all my jewels; farewell mantel and scarlet-red, and my crown; farewell hawks and hounds, marks32 and bezants,33 and hunting at the hare and hart and hind for evermore! Now will I take the veil and the ring, and turn anchoress, being still a maiden for thee and for all the men in Christendom. For thy sake, squire, I will make my prayers to Christ; and I will never hear Mass but thou shalt have some part with me, and every day, as long as I live, thou shalt have thy five Masses, and I will offer three-pence in token of the Trinity!"
And while the lady so said in her heavy mourning, she swooned away. But her father standing under the wall, cried out: "Daughter, ye shall not do so; ye must forego all those vows."
"Alas, father, wellaway! Now have ye heard what I said!"
"Daughter, lay aside your grief, for ye shall be wedded to a king."
"Certes, father, nor for all the gold in Christendom! Not all the gold God every made would glad my heart!"
"My daughter," he said, "my dear darling, I know the 174 cause of all your sorrow! Ye ween that this is the body of your lover; but, as I live, it is not so! It was my steward, Sir Maradose,34 that ye have kept so long hidden."
"Alas, father, how could you let this be?"
"Because he wrought all your owe. He showed me that he knew your secret, how the squire one day went to your chamber and would have dishonoured you, had he himself not entered with company; and how you offered the squire gold and goods and a royal fore of men. And after, he watched your chamber with bold and sturdy men-at-arms to take him whom you have loved these seven years; but as he besieged your chamber round about, near midnight came your lover alone, and cried at your door, 'Lady, undo!' You bade him wend his way, for there he should get nothing, and as ye thus talked together, came your foes nearer and nearer. They smote at him full soon, thirty to one; but he pressed into the throng with a stout baslard,35 and so bare him that he gave them many a wound. Eager and fierce of heart, he cut a-two the steward's throat, whose men then hacked at their master's face, and took and laid him on the marble-stone at your door, where ye might see and think he had been your lover. And presently they overcame the squire, and tore off his fine raiment and put it on the steward, that ye might not know who he was. Thus have you kept your enemy in this place, fading away these seven years. And the squire for 175 your sake was seized and thrown into prison, so let be your lamentation, for ye shall be weeded to a king or emperor with gold and silver and great treasure."
"Do away, father, not for all the gold in Christendom! Alas, father, why hath this traitor betrayed me? Alas, great is my wrong in that I have so long kept him here! Alas, father, why did you let this be? Ye might have warned me of my foe! If ye had told me who it was, my love had never died for my sake!" She turned away from the king, and fell a-swooning there.
He went and took her in his two arms. "Daughter," he said, " be of good cheer; your squire lives yet. He hath been in Lombardy and done chivalrous deeds, and is come home again; and ye shall see him in life and health. And he shall wed you, my sweet child. I have made him squire and knight, and he shall be a great lord, and after me wear the crown."
"Father," she cried, "if it be so, let me see him!"
Then he brought in the squire, full fair in life and looks, and as soon as she beheld him, she swooned away; but he caught here in his arms and kissed her an hundred times and more.
There was mirth and melody with harp, psaltery, and gittern,36 rote,37 ribibble,38 and clockard,39 pipes, organs, and firing of guns; and there were minstrels with zither, and 176 song to the psaltery, with fiddle, recorder,40 and dulcimer,41 trumpet and clear clarion, and with sweet pipes of many chords — all the lords revelling in the chamber until the morning dawned.
Then said the king to his daughter: "Take here thy love and sweetheart, to live and die with God's blessing. He that would depart you two — God give him sorrow and care! A truer lover than ye are was never flesh and blood; and but he be as true to you, God let him never thrive!"
The king was full merry of heart, and kissed his dear daughter many a time, with melody and good cheer. Anon he called a messenger, and bade him pass to and fro among the cities, and warn his knights to come to Hungary to the wedding and the feast. And so the messenger went, at the king's command, and invited old and young, powerful dukes and earls, and fair ladies.
As soon as ever they heard the cry, these lords made them ready with much mirth and great disport; and with all solemnity on a day the lovers were wedded.
A royal feast was held for dukes and earls and bold barons, for knights and squires, and likewise for all the commonalty of that land. And the story tells that the revels lasted forty days before the king with his twelve chief lords took the squire, and in the hall made him king among them; whereupon all the nobility offered homage. 177 All that day they revelled still, then took leave and went home, each lord to his own land, where he liked best to be.
That young man and his queen lived in great happiness, for, as far as I have gone in the world, never have I seen such lovers!
Therefore blest may their souls be!
Amen, amen, for charity!
FOOTNOTES
2 See p. 165 below, with note on p. 194.
3 See note on Launfal Miles, p. 183.
5 He means pilgrim
6 Unknown; hence, foreign.
7 Spurs.
8 So Chaucer's squire: "In hope to stonden in his lady grace.
10 Sword-belt, usually worn over one shoulder.
11 Part of a helmet left open for breathing.
12 Helmet usually; here, perhaps, crest.
13 Tunic worn over armour.
17 Any lawful means of acquisition except inheritance.
19 Text: white as ivory.
21 Here, doubtless of the saddle.
23 Other kinds of hawks.
26 Heavy ships, galleons. Properly dromonds.
27 Light, swift-sailing ships.
28 A kind of silk.
30 An aromatic gum found in Africa and in India.
31 13s. 4d.
32 10s 6d. to (Susan note british pound sign) 1.
34 Hanger.
35 A sort of guitar.
36 A small harp.
37 Prototype of the viol.
38 For clock, meaning a bell?
39 A kind of flageolet.
40 Prototype of the piano.
[192]
NOTES
THE SQUIRE OF LOW DEGREE
A late form of this romance (1132 lines) is contained in the Percy Folio MS. It was licensed in 1560 to be printed. A text by Copland and fragments of another by Wynkyn de Worde have survived. The poem was included by Ritson in his collection, and published separately by W. E. Mead in 1904. It possibly suggested to Spenser his Squire of Low Degree; and Shakespeare probably refers to the poem in his Henry V. "You called me yesterday mountain-squire, but I will make you to-day a squire of low degree! No French original is known; but the poem contains an unusually large proportion of uncommon French words not taken over by English.
193
p. 153. Fairest trees, &c. This author is peculiarly fond of lists, and begins with trees, shrubs, and plants of both hot and temperate climates, jumbled all together.
p. 153. First chosen by Jesus, i.e., in the Cross. According to Sir John Mandeville, cypress was one of the four woods of which the cross was made; but some legend may have named cypress alone.
p. 153. Laverock, &c. The popinjay or parrot is the only bird not found in England, the peacock of course having been imported, and the author's list is much more extensive than usual.
p. 154. Sir Guy . . . Colbrand. Guy of Warwick, in the romance of that name, overcame the Danish giant Colbrand, whose name still survives in the village of Cockburnspath (formerly called Colbrandspath), on the east coast of Scotland near Dunbar.
p. 157. On three Good Fridays, i.e., for three years, in honour of the Trinity, to meet the assaults of the heathen, which reach their climax on Good Friday, as being one of the great days in the Christian faith.
p. 157. Gold and gules set with sable. In heraldry, gules is red, and sable is black, being really a fine network of horizontal and perpendicular lines.
p. 157. Amor. So Chaucer's Prioress wore the motto: "Amor vincit omnia" — love conquers all.
p. 158. Bear it to the Sepulchre, &c. In the pictorial life of the Earl of Warwick (the King-maker), with drawings by Richard Rous, is a sketch that shows him offering up his arms similarly.
p. 158. Wheel of Victory. A confusion with Fortune's Wheel, conceived, in the Middle Ages, as having men clinging to its spokes, and so going up and down as it revolved.
p. 159. Dainty meats. Peacock was a great delicacy. Of the 194 others named, the stork was perhaps the most uncommon, even at that time, as an article of food.
p. 160. Since he was young. Text read I; but this would make the squire the king's contemporary, which is contrary to the sense of the passage.
p. 162. Summoned all the officers. The marshal had supreme authority in the hall and kitchen, even over the cook, whether the later were "lief or loth."
p. 165. Sir Libius. An allusion to the popular romance of Lybeaus Disconus. The details, however, differ from those in any known version, although the general course of the story is similar.
p. 168. Romney, &c. Romney is sometimes thought to have been a Greek wine; but Dr. Furnivall holds that it was Italian. Malmsey, bastard, and muscadel were all mixed with honey, the first originally Greek, the second Corsican, the third French. Pyment was a general term for a mixture of wine, honey, and spices. Hippocras was an elaborate concoction of the same sort, named from a bag of peculiar shape through which it was strained, "Hippocrates' sleeve." Vernage was a red Tuscan wine. Greek wines are often mentioned, and were much imported, especially from Candia. Rochelle came from the French town of that name, Osey from Alsace, Antioch from that city, Gernade from Granada, Algrade from Algarde in Spain. Mount Rose = couleur de rose, some red wine? Respice = raspice, made from unbruised grapes with their stalks fermented in other wine. The word suggests raspberries (rasps.
p. 169. Robes of the same silk. Text: sickles . . . of taffetras. Sickles looks like a corruption of Latin cyclas = a tunic, which in turn was confused sometimes with Fr. ciclatoun, rich silky stuff. Taffetras I take to be merely a corruption of taffeta. Perhaps the allusion is to the surplices of the choir?
195
p. 169. Counternote and descant. The first is counterpoint, the second, its predecessor, a kind of melody used to accompany plainsong.
p. 169. Arras cloth. N. E. D. quotes first from 1397. By Shakespeare's time the word had become a common noun meaning only tapestry, so well known were the productions from that town.
p. 169. Bowls. The first mention of this in N. E. D. is quoted from Occleve, 1420.
p. 170. A barge shall meet you, &c. Henry VI. was conveyed to Westminster in a barge instead of by a state procession on land; and doubtless his choice encouraged the fashion of this mode of progression. The passage reads like a description of a pleasure-trip down the Thames as far as the sea.
p. 170. Hey, how, &c. The refrain of an old sea-song several times quoted at this period, as in Skelton's Bowge of Court, in Cock Lorell, and by Fabyan in a song on Bannockburn. It is said to have been composed by watermen on the occasion of Henry VI.'s water-procession alluded to above; but a song with that refrain is mentioned about 1300 in the romance of Richard Cœur de Lion (l. 2522).
p. 170. Costards. The sense is doubtful. Apparently they were a part of the bed. The word means apples, hence balls. Perhaps some kind of ball-ornament similar to Fr. pommel (derived from pomme, which also means apple, ball) is referred to. The word pommel was carried over into English, but it may have suggested costard to this author, because of the similar root-idea.
p. 170. Bed-posts. A guess for felyoles, which seems to be Fr. fillole, filloelle, meaning pillars.
p. 171. Long-pepper. Sir John Mandeville in his Travels has an observation on different kinds of pepper, including this, 196 which is more rarely used than black or white (ed. 1900, Macmillan, pp. 112, 113).
p. 174. Sir Maradose. In the romance of Sir Triamour (Percy Folio MS.), one Marradas is fought by the hero; but if the name was borrowed from the source, it was probably confused by the borrower with Marrocke, which was the name of a false steward who betrayed his lord's daughter.
Printed by Ballantyne, Hanson & Co.
Edinburgh & London
[End of Text]
[endpapers]
including ads
for The Medieval
Library
and one blank paper
~~~~~~~