— You may click on the footnote symbol to jump to the note, then click again on that footnote symbol and you will return to the same place in the text. —
It is said, and with truth, that all towns are built of many different stones, and that all large rivers are formed from many springs; so are sciences compiled by many learned persons, and what one is ignorant of is known to another: not but that every thing is known sooner or later. Now, to come to the matter in hand, I will first beg the grace of God, and the benign Virgin Mary, from whom all comfort and success proceed; and then I will lay my foundation on the true Chronicles formerly written by that reverend, wise, and discreet man, John le Bel, canon of St. Lambert's, at Liege; who bestowed great care and diligence on them, and continued them, as faithfully as he could, to his death, though not without much pains and expense: but these he minded not, being rich and powerful. He was also a man of courteous manners, generous, and a privy counsellor, well beloved by sir John de Hainault; who is spoken of in these books, and not without reason, for he was the chief of many 2 noble enterprises, and nearly related to several kings; and by his means the above-mentioned John le Bel could see as through a perspective the many gallant actions recorded in the following sheets.
The true reason of my undertaking this book was for my amusement, to which I have ever been inclined, and for which I have frequented the company of many noblemen and gentlemen, as well in France as in England and Scotland, and in other countries, from whose acquaintance I have always requested accounts of battles and adventures, especially since the mighty battle of Poictiers, where the noble king John of France was taken prisoner; for before that time I was young in years and understanding: however, on quitting school, I boldly undertook to write and relate the wars above mentioned — which compilation, such as it was, I carried to England, and presented to my lady Philippa of Hainault, queen of England, who most graciously received it from me, to my great profit. And perhaps as this book is neither so exactly nor so well written as such feats of arms require — for such deeds demand that each actor who therein performs his part nobly should have due praise — in order to acquit myself to all, as in justice is due, I have undertaken this present work on the ground before mentioned, at the prayer and request of my dear lord and master, sir Robert de Namur, knight, lord of Beaufort, to whom I owe all love and obedience, and God give me grace to do always according to his pleasure.
TO encourage all valorous hearts, and to show them honourable examples, I, John Froissart, will begin to relate, after the documents and papers of master John le Bel, formerly canon of St. Lambert's, at Liege, as followeth: That whereas various noble personages have frequently spoken of the wars between France and England, without knowing any thing of the matter, or being able to assign the proper reasons for them; I, having perceived the right foundation of the matter, shall neither add nor omit, forget, corrupt, nor abridge my history: but the rather will enlarge it, that I may be able to point out and speak of each adventure from the nativity of the noble king Edward of England, who so potently reigned, and who was engaged in so many battles and perilous adventures, and other feats of arms and great prowess, from the year of grace 1326, when he was crowned in England.
KNIGHTS OF THE FOURTEENTH CENTURY. — From original authorities in the British Museum.
Although he, and also those who were with him in his battles and fortunate rencounters, or with his army when he was not there in person, which you shall hear as we go on, ought to be accounted right valiant; yet as of these there is a multitude some should be esteemed 4 supereminent. Such as the gallant king himself before named; the prince of Wales, his son; the duke of Lancaster; sir Reginald lord Cobham; sir Walter Manny of Hainault, knight; sir John Chandos; sir Fulke Harley; and many others who are recorded in this book for their worth and prowess: for in all the battles by sea or land, in which they were engaged, their valour was so distinguished that they should be esteemed heroes of highest renown—but without disparagement to those with whom they served. In France also was found good chivalry, strong of limb and stout of heart, and in great abundance; for the kingdom of France was never brought so low as to want men ever ready for the combat. Such was the king Philip of Valois, a bold and hardy knight, and his son, king John; also John, king of Bohemia, and Charles, count of Alençon, his son; the count of Foix; the chevaliers de Santré, d'Arnaud d'Angle, de Beauveau, father and son, and many others that I cannot at present name; but they shall all be mentioned in due time and place: for, to say the truth, we must allow sufficient bravery and ability to all who were engaged in such cruel and desperate battles, and discharged their duty, by standing their ground till the discomfiture.
THE better to understand the honourable and eventful history of the noble king Edward of England, who was crowned in London on Christmas-day, in the year 1326, in the lifetime of the king and queen his parents, we must remark a common opinion of the English, of which there have been proofs since the time of the gallant king Arthur, that between two valiant kings of England there is always one weak in mind and body; and this is apparent in the example of the gallant king Edward, of whom I now speak; for true it is that his grandfather, called the good king Edward the First, was brave, wise, very enterprising, and fortunate in war. He was much engaged against the Scots. He conquered them three or four times without their being able to gain any advantage over him.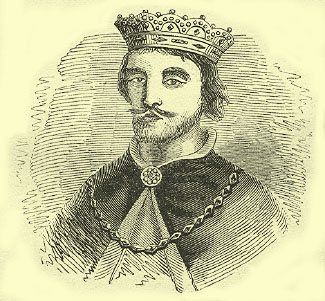 EDWARD THE SECOND. — From a painting in the Bodleian Lib. Oxford.
When he died, his son by his first marriage succeeded to the crown, but not to the understanding or prowess of his father, for he governed his kingdom very unwisely, through the evil counsels of others, the ill consequences of which he afterward suffered severely, as you will see; for, soon after his coronation, Robert Bruce, king of Scotland, who had given so much and such frequent trouble to king Edward above mentioned, and who well knew his valour, reconquered all Scotland, and took besides the good town of Berwick. He burnt and destroyed great part of the country, four or five days' march within the realm at two 5 different times: he afterward defeated the king and all the barons of England*, at a place in Scotland, called Stirling, in a pitched battle, when the pursuit lasted two days and two nights, and the king of England, accompanied with a few followers, fled to London. But, as this is no part of our matter, I shall here leave off.
————————
* "By batel arengyd the day of Saynt John Baptyst, in the 7th yere of ye reigne of the same kyng Edward, in the yere of our Lorde 1314. The chase of this discōfeture endured 2 dayes and two nyghtys. And the kyng of Ingland wēt w[ith]; a small company to London. And on Mydlentsonday in the yere of our Lorde 1316 the Scottis wan agayne the cite of Berwyk by treason." — Lord Berners.
This passage of Lord Berners', though given in his text, appears to be an interpolation of his own, correcting the error of Froissart, whose statement leads to the idea that the capture of Berwick was immediately subsequent to the battle, whereas two years intervened. The battle spoken of was that of Bannockburn.
————————
Online addition: The Battle of Bannockburn, June 24, 1314; from Chronicon Galfridi le Baker de Swynebroke, ed. by E. M. Thompson : From Readings in English History Drawn from the Original Sources, by Edward P. Cheyney, Boston: Ginn and Company; 1922; p. 232.
"On that night you might have seen the English host deep in their cups, wassailing and toasting immoderately; on the other hand the Scots silently kept the vigil fasting, their every thought centered in their desire for their country's freedom; and this desire, though ungrounded, was vehement and equal to all risks. On the morrow the Scots seized the most advantageous position, and dug pits three feet deep and as wide across, stretching along the whole line, from the right wing to the left. These they covered over with a light framework of twigs and osiers, that is to say, with hurdles; and then over the top they strewed turf and grass, so that men could cross them on foot with care, but the weight of cavalry could not be supported. In accordance with their royal leader's commands none of the Scots were mounted, and their army, drawn up in the usual divisions, was posted in solid formation at no great distance from this pit, which had been warily, not to say craftily, set between themselves and the English. On the other, side as the English army advanced from the west, the rising sun flashed upon their golden shields and polished helms. Their vanguard consisted of light horse and heavy cavalry, all unconscious of the Scots' pit, with its cunningly contrived light covering; in the second division were men-at-arms and archers held in reserve to give chase to the enemy; in the third was the king, with the bishops and other churchmen, and among them the brave knight, Hugh Spenser. The cavalry of the vanguard advanced against the enemy and fell headlong, as their horses stumbled into the ditch, with their forefeet caught in the broken hurdles; and when these fell through, the enemy came up and slew them, giving quarter only to the rich, for ransom.
————————
KING Edward the Second, father of our gallant king, had two brothers; one was the Earl Marshal, of a wild and disagreeable temper; the other was called lord Edmund of Kent: he was very wise and affable, and much beloved.
This king had married the daughter of Philip the Fair, king of France, who was one of the greatest beauties in the world. He had by this lady two sons and two daughters. The elder son was the noble and valiant king Edward, of whom this history speaks; the other was called John and died young. The elder of the two daughters was called Isabella, and was married to the young king, David of Scotland, son of king Robert Bruce. They were affianced from their earliest youth, with the consent of the two kingdoms of England and Scotland, as a bond to cement the peace. The other was married to the count Reginald, subsequently called duke of Guelderland, who had by this lady two sons; one named Reginald, the other Edward, who afterwards reigned with great power.
————————
HISTORY tells us that Philip, king of France, surnamed the Fair, had three sons, beside his beautiful daughter Isabella married to the king of England. These three sons were very handsome. The eldest, Lewis, king of Navarre, during the lifetime of his father, was called Lewis Hutin; the second was named Philip the Great, or the Long; and the third, Charles. All these were kings of France, after their father Philip, by legitimate succession, one after the other, without having by marriage any male heirs; yet, on the death of the last king, Charles, the twelve peers and barons of France did not give the kingdom to Isabella, the sister, who was queen of England, because they said and maintained, and still do insist, that the kingdom of France is so noble, that it ought not to go to a woman; consequently neither to Isabella, nor to her son, the king of England; for they hold that the son of a woman cannot claim any right of succession, where that woman has none herself. For these reasons the twelve peers and barons of France unanimously gave the kingdom of France to the lord Philip of Valois, nephew to king Philip, and thus put aside the queen of England, who was sister to Charles, the late king of France, and her son. Thus, as it seemed to many people, the succession went out of the right line, which has been the occasion of the most destructive wars and devastations of countries, as well in France as elsewhere, as you will learn hereafter; the real object of this history being to relate the great enterprises and deeds of arms achieved in these wars, for from the time of good Charlemagne, king of France, never were such feats performed.
————————
KING Edward the Second, father to the noble king Edward the Third, of whom our history speaks, governed his kingdom very indifferently, by the advice of sir Hugh Spencer, who had been brought up with him from his youth.
6
This sir Hugh had managed matters so, that his father and himself were the great masters of the realm, and were ambitious to surpass all the other great barons in England; for which reason, after the great defeat at Stirling, the barons and nobles, and even the council of the king, murmured much, particularly against sir Hugh Spencer, to whom they imputed their defeat, on account of his partiality to the king of Scotland. The barons had many meetings on this matter, to consult what was to be done; the chief of them was Thomas, earl of Lancaster, uncle to the king. Sir Hugh soon found it would be necessary for him to check them; and he was so well beloved by the king, and so continually in his presence, that he was sure of gaining belief, whatever he said. He soon took an opportunity of informing the king, that these lords had entered into an alliance against him, and that, if he did not take proper measures, they would drive him out of the kingdom; and thus operated so powerfully on the king's mind, that his malicious intentions had their full effect. The king caused all these lords to be arrested on a certain day when they were met together, and, without delay, ordered the heads of twenty-two of the greatest barons to be struck off, without assigning any cause or reason. Thomas, earl of Lancaster, suffered the first. He was a discreet and pious man; and since that time many miracles have been performed at his tomb in Pomfret, where he was beheaded. The hatred against sir Hugh Spencer was increased by this deed, particularly that of the queen and of the earl of Kent, brother to the king; which when he perceived, he fomented such a discord between the king and the queen, that the king would not see the queen, or come to any place where she was. This quarrel lasted some time; when the queen and the earl of Kent were secretly informed that, if they did not speedily quit the court, they would repent it, for sir Hugh was endeavouring to stir up much mischief against them. Then the queen, having made preparations for passing secretly to France, set out as if to go on a pilgrimage to St. Thomas of Canterbury; whence she went to Winchelsea, and that night embarked on board a vessel prepared for her reception, accompanied by her young son Edward, the earl of Kent, and sir Roger Mortimer. Another vessel was loaded with luggage, &c., and, having a fair wind, they landed the next morning at Boulogne.
————————
WHEN the queen Isabella landed at Boulogne, with her son and her brother-in-law, the earl of Kent, the governor of the town and the abbot waited on her, and conducted her to the abbey, where she and her suite were joyfully received and remained two days; on the third she continued her route towards Paris.
King Charles, her brother, being informed of her coming, sent some of the greatest lords at that time near his person to meet her; among whom were, sir Robert d'Artois, the lord of Crucy, the lord of Sully, and the lord of Roy, and may others, who honourably received and conducted her to Paris, to the king her brother. When the king perceived his sister (whom he had not seen for a long time) entering his apartment, he rose to meet her, and taking her in his arms, kissed her, and said, "You are welcome, my fair sister, with my fine nephew, your son;" then taking one in each hand he led them in. The queen, who had no great joy in her heart, except being near her brother, would have knelt at his feet two or three times, but the king would not suffer it, and holding her by the right hand, inquired very affectionately into her business and affairs. Her answers were prudent and wise; and she related to him all the injuries done to her by sir Hugh Spencer, and asked of him advice and assistance.
When the noble king Charles had heard the lamentations of his sister, who with many tears had stated her distress, he said, "Fair sister, be appeased — for, by the faith I owe to God and to St. Denis, I will provide a remedy." The queen then kneeled down, in spite of the king, and said to him, "My dear lord and brother, I pray God may second your intentions*." The king then taking her by the hand, conducted her to another apartment, which 7 was richly furnished for her and her young son Edward; he then left her, and ordered that every thing should be provided becoming the state of her and her son from his treasury.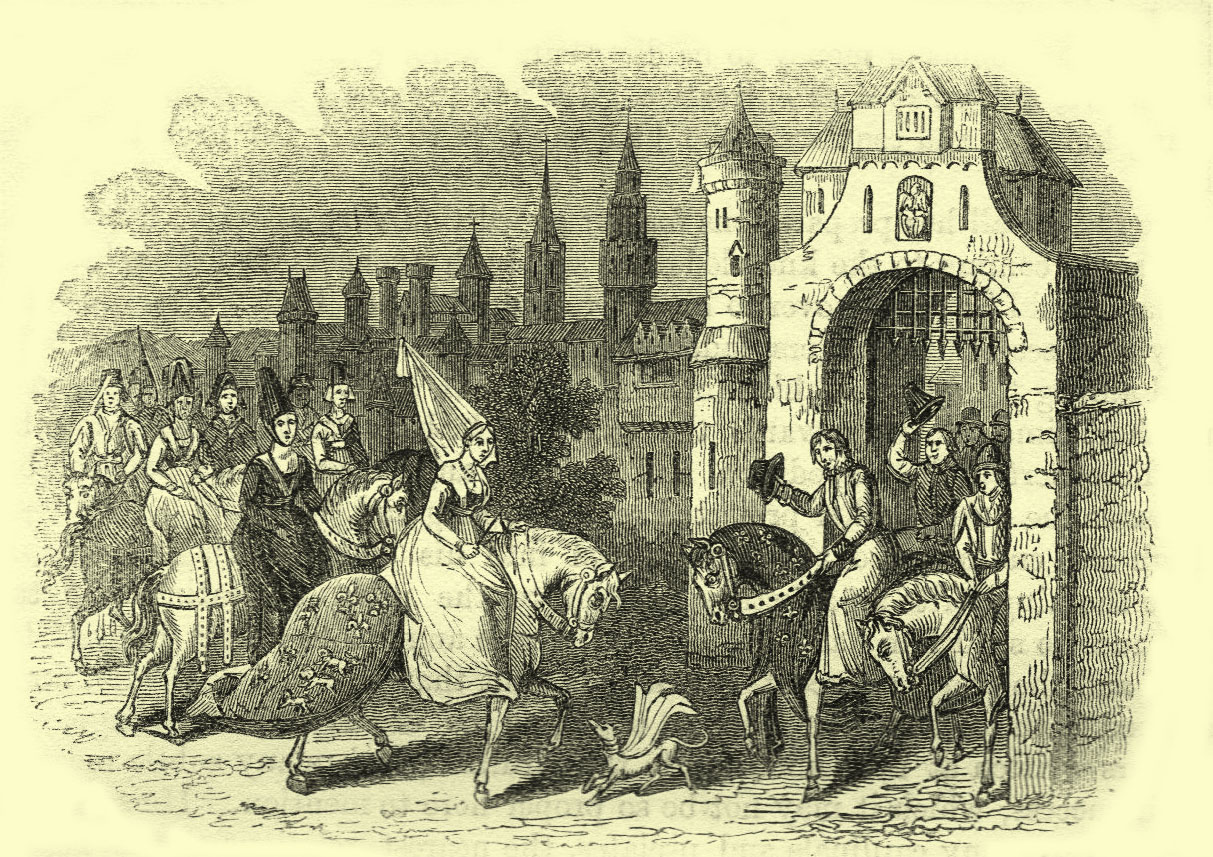 QUEEN ISABELLA'S VISIT TO HER BROTHER AT PARIS. — From an illumination in a M.S. Froissart.
In a short time afterwards Charles assembled many great lords and barons of his kingdom, to have their advice what was most proper to be done in the business of his sister, the queen of England. Their advice was, that the queen should be allowed to purchase friends and assistance in the kingdom of France, and that he should appear ignorant of this enterprise, lest he should incur the enmity of the king of England, and bring a war upon his country — but that underhand he should assist her with gold and silver, which are the metals wherewith the love of gentleman and poor soldiers is acquired.
The king acceded to this advice, and caused his sister to be informed of it by sir Robert d'Artois, who was at that time one of the greatest men in France.
————————
* Lord Berners' version is more affecting, and is almost word for word with the original; it runs thus —
When the noble kyng Charles of Fraunce had harde his susters lamentation, who weepingly had shewed hym all her nede and besynesse, he sayd to her, "Fayre suster, appease yourselfe, for, by the faith I owe to God and to saynt Denyce, I shall right well puruey for you some remedy." The quene then kneled down whether the kyng wold or not, and sayd, "My ryght dere lord and fayre brother, I pray God reward you." [Dieu vous en veuille ouïr.]
————————
NOW let us speak a little of this sir Hugh Spencer. — When he saw that he had the king of England so much in his power, that he objected to nothing he said or did, he caused many noblemen and others to be put to death without law or justice, but merely because he suspected them of being ill-inclined to him. His pride was also become so intolerable, that the barons who remained alive in England, neither could nor would suffer it any longer. They required and entreated that all private quarrels should be made up; and sent secretly to inform the queen (who had at this time remained in Paris three years), that if she could collect about a thousand men-at-arms, and would come at the head of them herself, with her son, into England, they would immediately treat with her, and obey him as their lawful sovereign*.
8
The queen showed these private letters that she had received from England to the king, her brother, who replied, "God be your help! your affairs will prosper so much the better. Take of my subjects as many as your friends desire; I freely give my consent, and I will order the necessary sums of money to be distributed among them." The queen had already been very active, and what with entreaties, gifts, and promises, had gained over many great lords, young knights, and esquires, who had engaged to carry her back to England with a great power.
The queen made all her preparations for her expedition very secretly, but not so much so as to prevent its coming to the knowledge of sir Hugh Spencer, who thought, that his most prudent plan would be to win over to his interest the king of France; for this effect he sent over trusty and secret messengers, laden with gold, silver, and rich jewels. These were distributed among the king and his ministers with such effect, that the king and his council were in a short time as cold towards the cause of Isabella, as they had before been warm. The king disconcerted the expedition, and forbade any person, under pain of banishment, to aid or assist the queen in her projected return to England.
Sir Hugh also endeavoured to get the queen into his and the king's power, and to this effect made the king write an affectionate letter to the pope, entreating him to order the king of France to send him back his wife, as he was anxious to acquit himself towards her before God and the world; since it was not his fault that she had left him, for he was all love and good faith towards her, such as ought to be observed in marriage. There were similar letters written at the same time to the cardinals, and many subtle means devised to ensure their success, which it may not be so proper here to mention. He sent also plenty of gold and silver to many cardinals and prelates, the nearest relations of the pope, and those most in his councils, by able and adroit messengers, who managed the pope in such a manner, by their presents and address, that he wrote to the king of France to send back Isabella, queen of England, to her husband, under pain of excommunication. These letters were carried to the king of France by the bishop of Xaintes, whom the pope sent thither as his legate.
The king, on the receipt of them, caused his sister to be acquainted with their contents (for he had held no conversation with her for a long time), and commanded her to leave the kingdom immediately, or her would make her leave it with shame.
————————
* John le Bel, according to what M. Lancelot says in one of his memoirs respecting Robert d'Artois, has been much mistaken in the object of Isabella's journey to France, and the time she went thither. It related to the homage due from Edward the second to Charles, king of France.
Charles had seized on parts of Guyenne, and the Spencers sent the queen to France to make up the matter with her brother, and also to keep her at a distance, as they knew she disliked them. There is a letter in Rymer, from king Edward to pope John XXII., dated March 8th, 1324, in which he says he has determined to send the queen to France to treat with her brother. This date is remarkable, because Froissart places the journey of the queen two years earlier: for he says the queen of England remained at Paris three years. Now it is certain she returned to England the 22nd of September, 1326; she must, therefore, have arrived in France in 1323. But Froissart is mistaken; — her journey was posterior to the expedition against Guyenne, which lasted from May, 1324, to the end of September in the same year; consequently her residence in France and Hainault was only about eighteen months. The same historian mistakes the object of her journey. He supposes her sole motive for going to France was to demand protection from the king, her brother, against the Spencers; that her departure was secret; and that she carried the young prince of Wales with her. All the documents which remain prove this to be groundless.
She left England by the desire of Edward; she succeeded in her mission, and a treaty was concluded the 31st of May, 1325. The Spencers were afraid of suffering Edward to pay the homage in person, and therefore they persuaded him to give the duchy of Guyenne and county of Ponthieu to the prince of Wales; which was done on the 2nd and 10th of September, 1325. The prince of Wales embarked at Dover the 12th of the same month, to pay the homage, upwards of six months after the passage of the queen his mother.
It is true, that when he arrived at the court of Charles the Fair, she prevailed on him to stay longer than Edward and his favourites wished. She exerted herself as much as possible to procure men and money, which she intended to employ in forcing the king, her husband, from the hands of the Spencers. For further particulars, which, however, do not seem to me very material to this part of the history, I must refer to the Memoir itself, in vol. x. des Mémoires de l'Académie des Inscriptions, &c.
————————
WHEN the queen heard this account, she knew not what to say, or what measures to adopt, for the barons had already withdrawn themselves by the king's command, and she had no resource or adviser left but in her dear cousin Robert of Artois: and he could only advise and assist her in secret, for, as the king had forbidden it, he could not act otherwise.
9
He well knew, that the queen had been driven from England through malice and ill-will, at which he was much grieved. This was sir Robert's opinion; but he durst not speak of it to the king, for he had heard the king say and swear, that whoever should speak to him in her behalf should forfeit his land, and be banished the kingdom. He was also informed, that the king was not averse* to the seizure of the persons of the queen, her son Edward, the earl of Kent, and sir Roger Mortimer, and to their being delivered into the hands of the king of England and sir Hugh Spencer. He therefore came in the middle of the night, to inform the queen of the peril she was in. She was thunder-struck† at the information — to which he added, "I recommend you to set out for the empire, where there are many noble lords who may greatly assist you, particularly William, earl of Hainault, and his brother, who are both great lords, and wise and loyal men, and much dreaded by their enemies."
The queen ordered her baggage to be made ready as secretly as she could; and having paid for every thing, she quitted Paris, accompanied by her son, the earl of Kent, and all her company, and took the road to Hainault. After some days she came into the country of Cambray. When she found she was in the territories of the empire, she was more at her ease, passed through Cambresis, entered l'Ostrevant, in Hainault, and lodged at the house of a poor knight called sir Eustace d'Ambreticourt, who received her with great pleasure, and entertained her in the best manner he could; insomuch that afterward the queen of England and her son invited the knight, his wife, and all his children, to England, and advanced their fortunes in different ways‡.
The arrival of the queen in Hainault was soon known in the house of the good earl of Hainault, who was then at Valenciennes. Sir John, his brother, was also informed of the hour when she alighted at the house of the lord of Ambreticourt. This sir John, being at that time very young, and panting for glory like a knight-errant, mounted his horse, and, accompanied by a few persons, set out from Valenciennes for Ambreticourt, where he arrived in the evening, and paid the queen every respect and honour.
The queen was at that time very dejected, and made a very lamentable complaint to him of all her griefs; which affected sir John so much, that he mixed his tears with hers, and said, "Lady, see here your knight, who will not fail to die for you, though every one else should desert you; therefore will I do every thing in my power to conduct you and your son, and to restore you to your rank in England, by the grace of God, and the assistance of your friends in those parts; and I, and all those whom I can influence, will risk our lives on the adventure, for your sake; and we will have a sufficient armed force, if it please God, without fearing any danger from the king of France." The queen, who was sitting down, and sir John standing before her, rose and would have cast herself at his feet, out of gratitude for the great favour he had just offered her; but the gallant sir John, rising up quickly, caught her in his arms, and said, "God forbid that the queen of England should ever do such a thing! Madam, be of good comfort to yourself and company, for I will keep my promise — and you shall come and see my brother, and the countess his wife, and all their fine children, who will be rejoiced to see you, for I have heard them say so." The queen answered, "Sir, I find in you more kindness and comfort than in all the world besides, and I give you five hundred thousand thanks for what you have said and offered me. If you will keep what you have promised me with so much courtesy, I and my son shall be for ever bound unto you, and we will put the kingdom of England under your management, as in justice it ought to be."
After this conversation, sir John de Hainault took leave for the night, and went to Douay, where he slept at the abbey. The next day, after having heard mass and taken some refreshment, he returned to the queen, who received him with great joy. She had finished her dinner, and was going to mount her horse, when sir John arrived. The queen of England quitted the castle of Ambreticourt, and, in taking leave of the knight and his lady, she thanked them for their good cheer, adding, that she trusted a time would come, when she and her son would not fail to remember their courtesy.
10
The queen then set off, accompanied by sir John, lord of Beaumont, who with joy and respect conducted her to Valenciennes. Many of the citizens of the town came out to meet her, and received her with great humility. She was thus introduced to William, earl of Hainault, who, as well as the countess, received her very graciously. Many great feasts were given on this occasion, as no one knew better than the countess how to do the honours of her house. This earl William had at that time four daughters, Margaret, Philippa, Joan, and Isabella: the young king Edward paid more court and attention to Philippa than to any of the others; the young lady also conversed more frequently with him, and sought his company oftener than any of her sisters. The queen remained at Valenciennes during eight days with the good earl and countess Joan of Valois; in the mean time the queen made every preparation for her departure, and sir John wrote very affectionate letters unto certain knights, and those companions in whom he put the most confidence, in Hainault, Brabant, and Bohemia, beseeching them, from all the friendship that was between them, that they would accompany him in this expedition to England.
There were great numbers in these countries who were willing to go with him from the love they bore him, and many who refused, notwithstanding his request; and even sir John himself was much reproved by the earl, his brother, and by some of his council, because it seemed to them that this enterprise was of much hazard, on account of the great divisions and enmities which at that time subsisted among the great barons and commons in England; and also because the English are always very jealous of strangers, which made them doubt whether sir John de Hainault and his companions would ever return. But, notwithstanding all their blame and all their advice bestowed upon him, the gallant knight would not change his purpose, saying, that he could die but once; that the time was in the will of God; and that all true knights were bound to aid, to the utmost of their power, all ladies and damsels driven from their kingdoms comfortless and forlorn.
————————
* Was in mynde & will to make his suster be taken, &c. — Lord Berners.
† Then ye quene was greatly abasshed [ebahie] and required hym all wepyng of his good counsaile. Then he sayed, &c. — Lord Berners.
‡ His son was one of the first knights of the garter. See Ashmole's History of the Garter.
————————
THUS was sir John de Hainault strengthened and encouraged in his resolution. He earnestly entreated the Hainaulters to be at Halle, the Brabanters at Breda, the Hollanders (of whom he had a few) at Dordrecht, and the Bohemians at Gertruydenberg, by a fixed and limited day. The queen of England took leave of the earl and countess, thanking them much for the honour and entertainment they had shown her, and kissed them at her departure. The queen, her son, and suite, set off, accompanied by sir John, who with great difficulty had obtained his brother's permission. He said to him, when he took his leave, "My dear lord and brother, I am young, and believe that God has inspired me with a desire of this enterprise for my advancement; I also think and believe for certain, that this lady and her son have been driven from their kingdom wrongfully and sinfully. If it is for the honour and glory of God, and of the world, to comfort the afflicted and oppressed, how much more so is it, to help and succour one of such high birth, who is a daughter of a king descended from royal lineage, and to whose blood we ourselves are related! I would have preferred renouncing every expectation I have here, and gone and served my God beyond seas, without every returning, rather than that this good lady should have left us without comfort and aid. If you will permit me to go, and grant me a willing leave, I shall do well, and thereby the better accomplish my purpose."
When the good earl had heard his brother, and perceived the great desire he had for this enterprise, and that possibly it might turn out not only to his own honour, but to that of his descendants; he said to him, "Dear brother, God forbid that there should be any hindrance to your wish: therefore I give you leave in the name of God!" He then kissed him, and squeezed his hand, in sign of great affectation.
Sir John set out, and went that night to Mons, in Hainault, where he slept, as did the queen of England. — Why should I lengthen my story? — They travelled in such a manner as to arrive at Dordrecht by the time limited for their friends to meet them. At that place they provided themselves with vessels of different sizes, and having embarked their 11 cavalry, baggage, &c. they set sail, having first recommended themselves to the care of the Lord. In this expedition there were the following knights and lords of Hainault: first, sir John de Hainault, lord of Beaumont, sir Henry d'Antoing, sir Michael de Ligne, the lord of Gommegines, sir Percival de Semeries, sir Robert de Bailleuil, sir Sanxen de Bouissoit, the lords of Vertaing, de Pocelles, de Villers, de Hein, de Sars, de Boisiers, d'Ambreticourt, de Sermuel, sir Oulphart de Guistelle, and many other knights and esquires, all eager to serve their master. When they left the harbour of Dordrecht, the fleet, considering its force, made a beautiful appearance, from its good order, and from the weather being clear and temperate. They came opposite to the dykes of Holland the first tide after their departure. The next day they cast anchor and furled their sails, intending to follow the coast of Zealand, and to land at a port which they had descried; but they were prevented by a violent tempest, which drove them so far out of their course, that for two days they knew not where they were. In this God was very merciful to them; for, had they landed at the port they intended, they would have fallen into the hands of their enemies, who, apprised of their coming, waited for them at that place to put them to death. At the end of two days the storm abated, and the sailors descrying England, made for it with great joy, and landed upon the sands, having neither harbour nor safe port. They remained there three days at a short allowance of provisions, whilst they disembarked their cavalry, and landed their baggage. They were ignorant in what part of England they were, and whether that part of the country was friendly to them or not. The fourth day they began their march, putting themselves under the protection of God and St. George, having suffered much from cold and hunger in addition to their late fears, of which they had not yet divested themselves. They marched over hill and dale until they came to some villages; soon afterwards they saw a large monastery of black friars, called St. Hamons, where they refreshed themselves during three days*.
————————
* P: Vir: says that this company landed in the county of Suffolk, and mentions a village called Orwel, in which they refreshed themselves. The Chronicle of Flanders calls it Norwell, and adds that it is a sea-port. — Annotations from Denis Sauvage's edition.
————————
THE news of her arrival being spread abroad, soon came to the knowledge of those lords by whose advice she had returned; they got themselves ready as soon as possible to join her son, whom they wished to have for their sovereign. The first who came was Henry, earl of Lancaster, surnamed Wryneck, brother to the earl Thomas, who had been beheaded, and father of the duke of Lancaster, who makes so conspicuous a figure in the following history. This earl Henry was attended by a great number of men at arms. After him came, from different parts, earls, barons, knights, and esquires, and with such an armed force, that they no longer thought they had any thing to apprehend. As they advanced, their forces were still increased; so that a council was called to consider if they should not march directly to Bristol, where the king and the two Spencers then were.
Bristol was at that time a large town, well enclosed, and situated on a good port. Its castle was very strong, and surrounded by the sea. The king, and sir Hugh Spencer the elder, who was about ninety years of age, and sir Hugh Spencer, his son, the chief governor of the king, and adviser of all his evil deeds, shut themselves up in it. The earl of Arundel, who had married the daughter of the younger Spencer, was also there, as well as divers knights and esquires, attending the king's court.
The queen, with all her company, the lords of Hainault, and their suite, took the shortest road for that place; and in every town through which they passed were entertained with every mark of distinction. Their forces were augmenting daily until they arrived at Bristol, which they besieged in form. The king and the younger Spencer shut themselves up in the castle; old sir Hugh, and the earl of Arundel, remained in the town.
When the citizens saw the queen's force, and the affections of almost all England on her 12 side, alarmed at their own perilous situation, they determined in council to surrender the town, on condition that their lives and property should be spared. They sent to treat with the queen on this subject; but neither she nor her council would consent to it, unless sir Hugh Spencer and the earl of Arundel were delivered up to her discretion, for she had come purposely to destroy them.
The citizens seeing they had no other means of saving the town, their lives, and their fortunes, acceded to the queen's terms, and opened their gates to her. She entered the town, accompanied by sir John de Hainault, with all her barons, knights, and esquires, who took their lodging therein; the others, for want of accommodation, remained without. Sir Hugh Spencer, and the earl of Arundel, were delivered to the queen to do with them as it should please her. Her children were also brought to her — John and her two daughters, found there in the keeping of sir Hugh Spencer. As she had not seen them a long time, this gave her great joy, as well as to all her party.
The king and the younger Spencer, shut up in the castle, were much grieved, at what passed, seeing the whole country turned to the queen's party, and to Edward, his eldest son.
————————
AS soon as the queen and the barons were lodged at their ease, they made their approaches to the castle as near as they could. The queen then ordered sir Hugh Spencer the elder, and the earl of Arundel, to be brought before her eldest son, and the barons assembled, and said to them, that she and her son would see that law and justice should be done unto them according to their deeds. Sir Hugh replied, "Ah! madam, God grant us an upright judge and a just sentence; and that if we cannot have it in this world, we may find it in another!" Then rose up sir Thomas Wager, a good knight, wise and courteous, and marshal of the army: he read, from a paper in his hand, the charges against them, and then addressed himself to an old knight, seated on his right hand, to decide the punishment due to persons guilty of such crimes. This knight consulted with the other barons and knights, and reported it as their opinion, that they deserved death for the many horrible crimes with which they had been charged, and which they believed to be clearly proved; that they ought, from the diversity of their crimes, to suffer in three different manners: first, to be drawn on a hurdle to the place of execution, there to be beheaded, and afterwards to be hung on a gibbet. Agreeably to this sentence, they were executed before the castle of Bristol, in the sight of the king, sir Hugh Spencer, and all those within it. This execution took place in October, on St. Denis's day, 1326.
[See The Articles of Accusation against Edward II. 1327 A.D. here. — Elf.Ed.]
————————