~~~~~~~~~~~~~
[front-
papers]
THE SPARROWGRASS PAPERS.
[2 blank]
MR. SPARROWGRASS DESCENDS TO THE INFERNAL REGIONS ON A DUMB WAITER.
"He came to the rescue with a bull-terrier, a Newfoundland pup, a lantern, and a revolver. The moment he saw me at the window he shot at me, but fortunately just missed me. I threw myself under the table, and ventured to expostulate." — PAGE 72.
[i]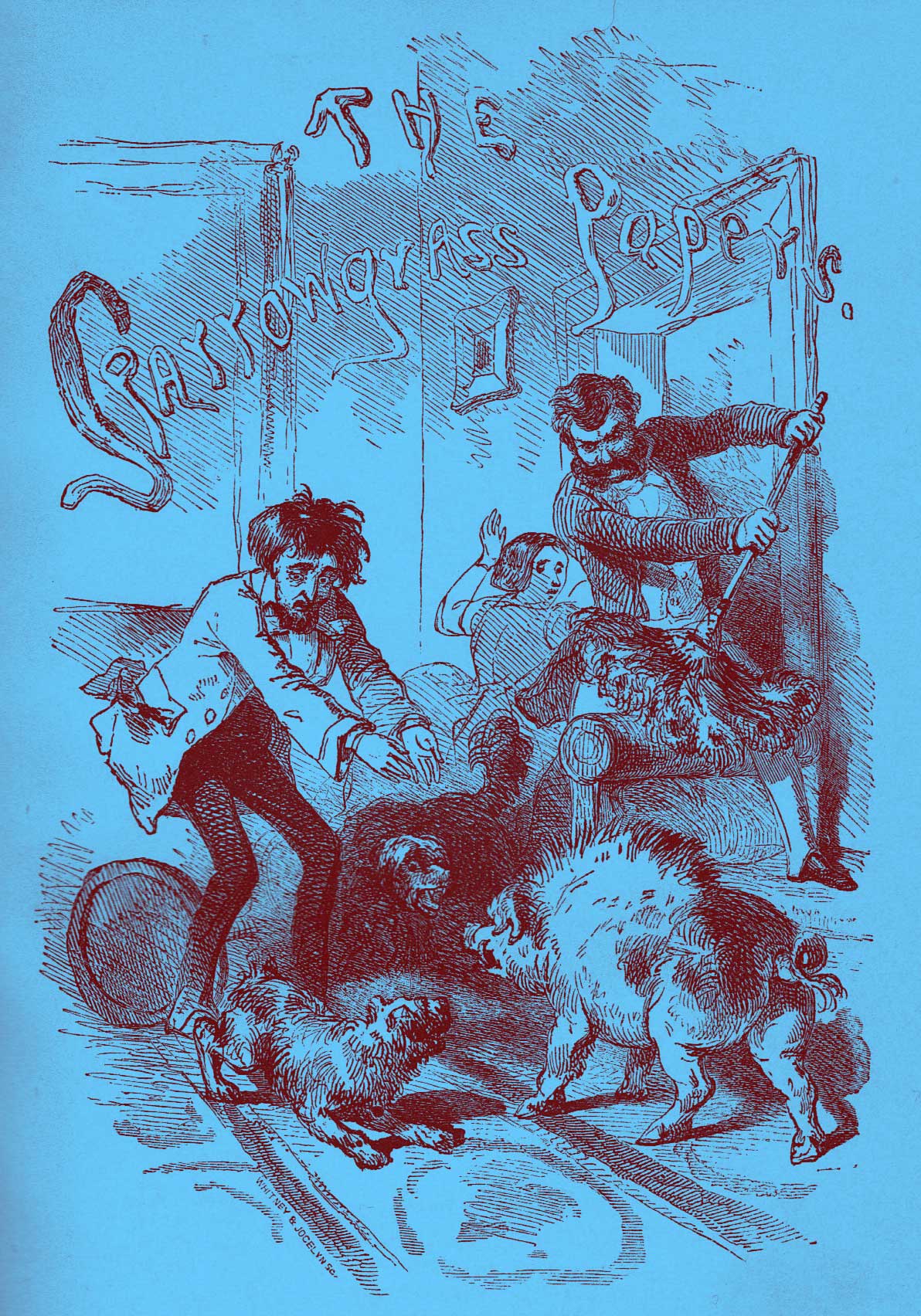 "I managed to get the ring-leader of the swinish multitude into my parlor. He was a large, powerful-looking fellow with a great deal of comb, long legs, mottled complexion, and ears pretty well dogged. He stood for a moment at bay against the sofa, and then charged upon the dogs." — PAGE 90.
New York:
D E R B Y & J A C K S O N
[ii]
[blank]
[iii]
THE SPARROWGRASS PAPERS:
OR,
LIVING IN THE COUNTRY.
BY
FREDERIC S. COZZENS.
"To him who in the love of Nature holds
Communion with her visible forms, she speaks
A various language."
NEW YORK:
DERBY & JACKSON, 498 BROADWAY.
1860.
[iv]
ENTERED according to Act of Congress, in the year 1854, by
FREDERIC S. COZZENS
In the Clerk's Office of the District Court of the U. S. for the Southern District of New York
~~~~~~~~~~~~~~~~~~~~~~~~~~~~~~~~~~~~
W. H. TINSON, Stereotyper. George Russell & Co. [illegible type]
[v]
TO
ONE OF THE GENTLEST OF HUMORISTS,
TO
THE REV. FREDERICK W. SHELTON,
AUTHOR OF
"LETTERS FROM UP THE RIVER,"
This Volume
IS AFFECTIONATELY INSCRIBED.
[vi]
[blank]
[vii]
GENTLE READER!
Doubtless you have read, in the work of a quaint old commentator whose name has been quietly obscuring itself in the rust of nearly three centuries, these words — "It hath beene the custome of many men to make their introductions to their bookes, like to some Grecian Cities gates; so ample, that (as the Prouerbe ranne), their Citie was ready to steale thorow the same." You and I who appreciate wisdom — especially if it be a little mouldy, at once recognized the value of the hint conveyed by that piece of antiquated orthography. Therefore, to you, the brevity of this preface will, I trust, commend the book quite as much as though I had taken the matter in hand through the length and breadth of a score of pages. As there is nothing in it worth a smooth-faced prologue, nothing that would be the better for an apology, and nothing worth reviewing seriously, may I beg leave to present it without any introduction, except the very excellent designs of Mr. Darley?
CHESTNUT COTTAGE, March 1st, 1856.
[viii]
[blank]
~~~~~~~~~~~~~